Wise Guys
If it is true that two heads are better than one, then surely 12 heads must mean something very special indeed.
Here at Owl, we recognise the need for creative lateral thinking, so we have pulled together a group of industry experts who all have a lifetime of experience in their sector, making them not only the go to guys (and gals) for advice and creativity, but also one savvy bunch of older consumers.
The Wise Guys are drawn from all sides of the marketing communications industry – from PR, to media planning; from TV production to photography; and from creative design and copywriting to market research.
They each have the wisdom of a lifetime in their chosen career, and the nous of a seasoned consumer.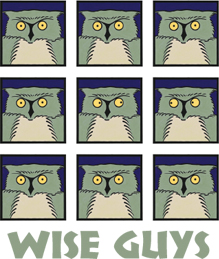 If any group of people is better qualified to deliver Mature Thinking to a client's marketing campaigns, we have yet to meet them. Why don't you check them out at www.wiseguys.uk.com